How To Drill Into Concrete With A Regular Drill Tips and Trick
If you are reading this article right now, most probably have to drill your walls with a regular drill. If we are not wrong, this could be the first time you are about to drill. It could also be a matter of not knowing the appropriate drill.
Regular drills have got a chuck and jaw that squeezes a bit. The engine activates the bit by torque. You might stress yourself out, trying to figure out how to drill into concrete with a regular drill. But we would suggest not to.
Drilling into concrete with a hammer drill and a regular drill has the only difference of time and needed pressure.
This article will explain the step by step how you can use a regular drill on concrete. We will provide you with the necessary information you need to know to get the job done without damage. Let's get started.
Types of drill you may find
There are various variations of drills on the Amazon and the local store. You need to have the idea of the drills used to do so if you want to drill concrete. You can select the best approach for the work by learning various types of drills.
Demolition drills:

These are

established to treat materials such as concrete, asphalt, bricks and blocks that are broken. Breakers and demolition drills provide the surface with more effective blows and can be used to chisel channels in steelwork and to cut tiles.

Hammer Drills:

Hammer drills are suitable for intensive work at home. You can change the power while maintaining low RPM with multiple torque settings. It can, therefore, drill the surface through hard materials and reduce damage. The hammer drills do not have reverse screwdriving.

Rotary Hammer Drill:

An updated version of the hammer drill is available as a rotary hammer. It's a bit larger to a lot bigger in size. The hammering/chipping mechanisms are more robust to provide much greater power than the hammers.
It has a rotating hammer and anvil inside instead of using a forward chipping mechanism. The hammer strikes the anvil violently to give it much higher rotational force than standard drills.
Drill drivers (regular drills):

The best option would be drill drivers if you are looking for a versatile option for minor repairs at your home. They also act as drivers.
This allows you to loosen and tighten the torches with various drill and shrink bits. Drill drivers are perfect for racks, pictures and flat-pack furniture installation.
Drilling Into Concrete With A Regular Drill
To drill with a regular drill into concrete, you have to follow some procedures. As we have mentioned earlier, it may not be easy. But with proper technique, it is not impossible.
Materials
Steps to drill into concrete
Follow the steps as provided.
Mark the place in which you would like to drill. Begin with a small drill and press frequently as you drill.
Check the exact positions before starting to boil. Make sure you know the same depth to be used for drilling.
If you feel like the drill bit is stuck, come back a little before you start drilling again. If this is not done, a broken bit of drill is probably going to result.
A masking tape can be used to indicate the depth of your drill when the drill is stopped.
Increase drill bit's size
Once you get your first hole drilled into the concrete, increase your drill bit's size. Now redrill the spot. You can increase the speed if you feel more in control while preserving steadiness.
Avoid the temptation to force the drill further into the concrete when facing obstructions. This action might damage the bits or at the worst the drill. You also don't want losing control to mess up with the size of your hole or concrete surface.
Do not try to skip too many sizes at one time.
Apply additional pressure
It is prevalent to get stuck while drilling with a regular drill. If increasing the size don't help, then consider pressing the drill a bit. You can also use a large nail and hammer to break up the blockage.
But you have to be very careful because too much pressure can cause you to break the drill bit off.
Blow out the dust using a can of compressed air. Keep your goggles on throughout the exercise to maintain your eye safety against any concrete dust and shards. These particles might fly into your face and scratch your eyes.
Be very careful about having children around while drilling. Splinters of dust can harm your kid.
Required Drill Bit
You have to keep an eye on what's going on when you plan to use a regular drill. It is essential to know what the job you need before you start shopping for a drill bit.
The best thing would be a tungsten carbide masonry drill bit. Start your way up with a small size. A variety of bit sizes are necessary. You must also consider how precise you must be. Some are ideal for clean trolling, while others are ideal for rough exploring.
Again, it is essential that you clearly understand your job here because you can find the best type of exercise for your project.
Check out these drill bits you can purchase from amazon.
| Drill Bit | Check them out |
| --- | --- |
| DEWALT DW1341 14-Piece Titanium Speed Tip Drill Bit Set | Buy on amazon |
| DEWALT Screwdriver Bit Set / Drill Bit Set | Buy on amazon |
| Bosch CO2147 5/16 In. X 4-1/2 In. Cobalt Drill Bit | Buy on amazon |
Some important FAQs
To clear any confusion, nothing can be better than having a question and answer session. In this part, we have arranged a question-answer part. Check them out, and they might come in handy.
How to choose Drill Bits by Type?
At the very end of a small pointed tip, wood drill bits can be identified. You can see spurs on each side when you look closely.
Bits have a sloping tip for Masonry Drill. Metal Drill bits: at the end, these can be wide-angled and black-coloured.
Can you use a masonry drill bit with a regular drill?
You can undoubtedly drill an or two-hole in a concrete block with a regular drill, but if you have a full bunch of hole to drill into 50-year old concrete, you're going to want to boost it.
Are hammer drill and impact drill the same?
An impact drill has an impact feature, and a hammer drill is hammered. Easy enough to remember that. The main difference lies in the force transferred to the head of the drill. The hammer function knocks on the head of the drill, which pulses instead of rotating.

Can I use an impact driver to drill into brick?
You will drill brick and some concrete with an impact driver when you want to drill hole in 1/4-inch or under. Impact drivers have a monstrous torque amount but are not intended for use as standard drills or hammer drills.
Conclusion
Drilling is a task that takes skill, patient and creativity. Drilling with a regular drill might seem complicated, but it is not impossible.
In this article, we have tried to get you introduced to drill in concrete if you have a regular drill only. But we always recommend using the proper tool because safety is to be concerned.
We hope this article will help you. Good Luck!!
Meet the Author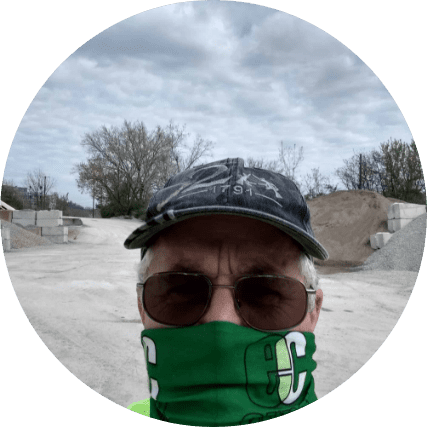 Walter Johnson
I'm a concrete contractor by trade and have been working in the industry for over 25 years now. I've seen (and done) it all when it comes to concrete, and I love sharing my knowledge and experiences with others who are interested in learning more about this amazing material. In my spare time, I enjoy spending time with my family, fishing, and watching NASCAR races.